WTI Crude Oil Falls to 76.00: New Resistance Levels
The market is bearish on oil prices this week. WTI Crude Oil has flirted with 80, but finally cleared below it this week. After breaking below the support pivot around 79.50, the floodgate opened up and WTI Crude fell sharply to 76.00 by the start of the 11/4 European-US session.

WTI Crude 1H Chart 11/4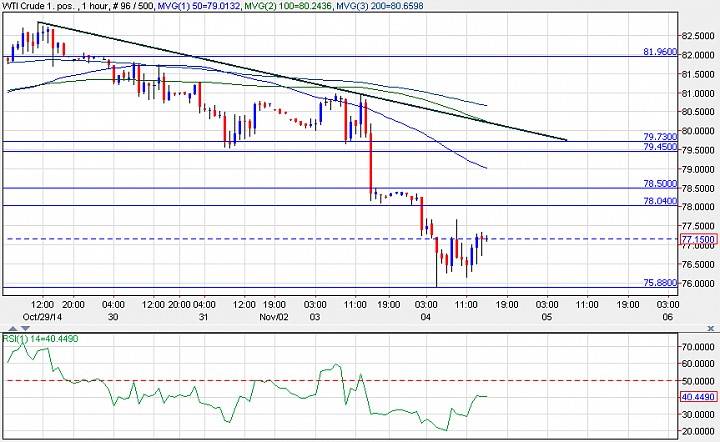 (click to enlarge)
Bearish Continuation: The 1H chart shows the market tagging a new low on the year at 75.88 before consolidating above 76.00. The RSI is now back above 30, so the market is no longer oversold in the intra-session time-rame, and ready to push lower in the 11/5 session. A break below 75.88 should put the 75.00 level in sight, ahead of Friday's NFP risk.

However, if we get a bullish attempt, we should look for sellers on the rally because the prevailing downtrend is strong and intact.

The 78.00 up to the 78.50 area is a resistance factor especially if the 1H RSI stalls at 60. This would maintain bearish momentum and bias and thus continue to pressure the 75.88 support with risk of breaking toward 75.00.

Above 78.50, the next key level for resistance is in the 79.45-80.00 area. This will test some previous support levels, and a falling trendline. Below 80.00, oil's bearish outlook should still remain in play.