Copper Probably Still Heading to 3.00 Despite the Pullback This Week
In January, we saw signs that copper became bullish and was heading to 3.00: Copper to See 3.00?
Indeed a month later, this bullish scenario is still materializing.

Copper Daily Chart 2/16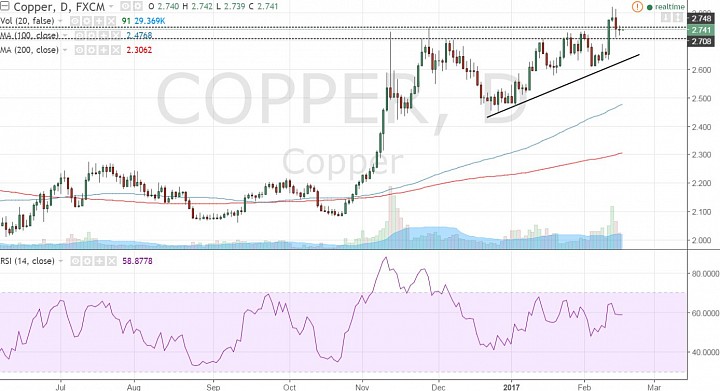 (click to enlarge)

Breakout:
- The daily chart shows a bullish market that is signaling bullish continuation with a breakout above 2.75.
- Price has retreated this week, but remains in the context of a bullish market, even if we see some further pullback.
- The area around 2.6 will be a key support. We might have to shelf the bullish outlook to 3.00 if price falls below 2.6.

Copper Weekly Chart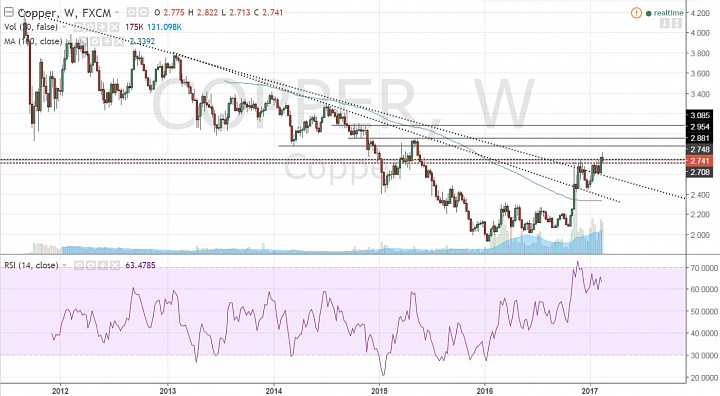 (click to enlarge)

Breakout:
- The weekly chart shows a market that has been bearish in the past 6 years, falling from around 4.20 to below 2.00.
- After a period of consolidation in 2016, price shot up at the end of the year. 
- Now, price is breaking above a falling trendline. 
- The target area around 3.00 looks very probable, even if we observe some pullback like we are seeing this week.