Nike Inc. (NKE) In a Bullish Continuation Breakout into Fresh All-Time-Highs
In this tentative market environment, Nike $NKE is in a bullish continuation breakout on the back of better-than-expected earnings.
Nike shares hit all-time high as new products drive sales, earnings top expectations (CNBC)
Nike's fiscal first quarter earnings and sales topped analysts' expectations, as investments to sell more sneakers and apparel in its stores and on its website showed signs of paying off.
Its shares rose more than 5.5% in after-hours trading on the news, topping its previous all-time high of $90.
Here's how the company did for the first quarter in fiscal 2020 compared with what analysts were expecting, based on a poll by Refinitiv:
Earnings per share: 86 cents vs. 70 cents expected
Revenue: $10.66 billion vs. $10.44 billion expected
CEO Mark Parker said that product innovation, like a new Joyride running shoe, and a stronger e-commerce business helped boost results. During a call with analysts, he said online sales were up 42% during the quarter, while Nike's women's business grew at a double-digit clip. Nike has vowed to do a better job at making gear for female shoppers, and it hopes efforts like working with tennis champion Serena Williams as an ambassador will help.
Parker also said Nike had its biggest back-to-school season ever for kids, on the heels of it launching a subscription box for children's sneakers.
Net income for the quarter ended Aug. 31 climbed to $1.37 billion, or 86 cents a share, from $1.09 billion, or 67 cents per share, a year ago. That was better than expectations of 70 cents reported by Refinitiv.
Revenue was up 7.2% to $10.66 billion from $9.95 billion a year ago, topping expectations for $10.44 billion.
...
---
NKE Daily Chart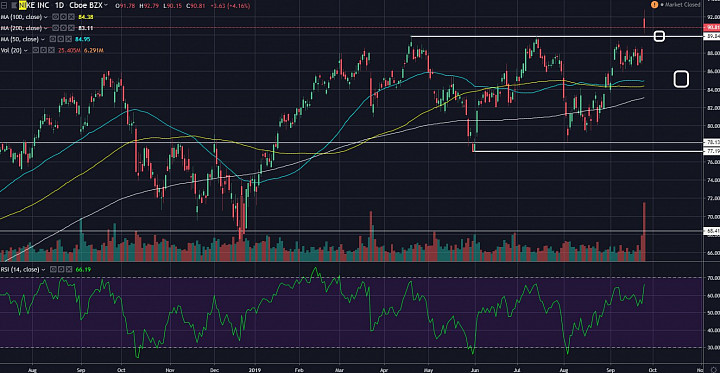 (click to enlarge)
Breakout:
- On the daily chart, we can see that price has been consolidating since it came up to almost $90.
- We can see that it was trading sideways for several months.
- The 9/25 session opened with a bullish breakout.
- With NKE still showing tremendous growth prospect, this breakout is likely going to carry share price into a bullish trend.
Pull back?
- The only thing is that the overall market could be tentative. If the broad market becomes bearish and NKE gets dragged lower, it would be a buy-the-dip candidate.
- I think price will find support in the $84-$86 area.
- But if the overall market is not that bearish, NKE might find support in the $90 area, the previous support.
Adjusting Strategy:
- I exited my position in NKE when it came up to $88, and wanted to get back in around $80, and at $70.
- However, I don't think price will fall back to these levels before pushing to $100 and possibly beyond.
- Instead, I think the lowest I should place a trade is around $85, with a buy at $90 as well.
- I would target $110 for now, with a stop below $84 i.e. $81.75.