Advanced Micro Devices (AMD) Recovers Quickly and Challenges the Prevailing Price Top
Advanced Micro Devices (AMD) has been in consolidation since February-March this year. It extended a bearish correction at the start of May, but has since recovered sharply as we can see on the daily chart below.

Advanced Micro Devices (AMD) Daily Chart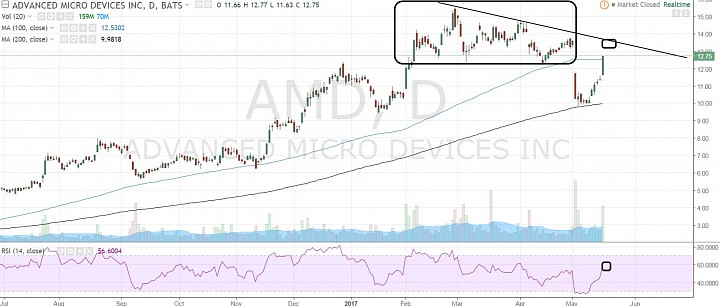 (click to enlarge)

Earnings Reaction:
- It should be noted that price was consolidating ahead of the Q1 earnings report and plunged immediately after the report was released on May 2nd. 
- Price came down to 10.00 but found support here. Note that price also respected the 200-day simple moving average, which around 10.00 at the time as well. 
- It is a possibility that AMD is still bullish since it bounced up from the 200-day SMA and anchored above 10.00.
- Perhaps, it is going to become a sideways market between 10.00 and 15.50. 
- Finally, AMD might still be in bearish correction.
Key Resistance and Scenarios:
- What happens as price approaches 13.00 will be key. 
- Just above 13.00, there is a falling trendline. 
- Also, the RSI is right around 60. If the market is still in bearish correction mode, price should stall around 13.00 and the RSI should stall around 60 and turn down. 
- In this bearish correction scenario, price has downside towards 9, although there is a support/resistance pivot around 9.40. The point is that we can anticipate another low if price retreats from 13.00. 
- If price clears above 13.75, it would point to either a sideways or bullish market, which puts the at least the 15-15.50 high in sight.