VRX - Stalking the Double Bottom Attempt
VRX has been in a free fall but has settled above 25 in March. Since then it has been drifting sideways. After a failed attempt to continue lower in April, price started to climb back to the resistance pivot around 34, completing a double bottom.

VRX 1H Chart 4/7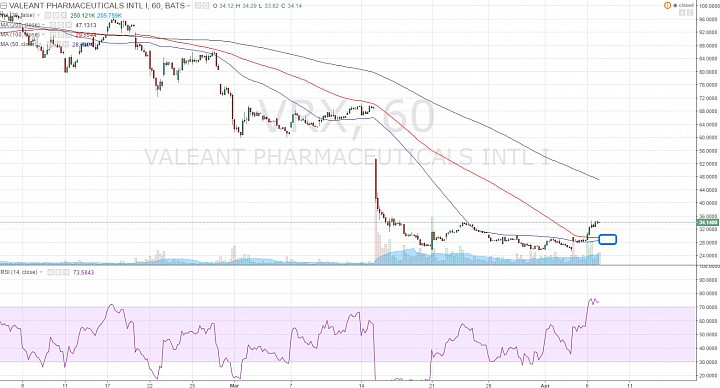 (click to enlarge)

A Short-term Bullish Correction Scenario: I think VRX has a good chance to pop up to 43. This target is derived from a classic range breakout projection. The range , or double bottom is 34-25, or 9 points wide. Above 34, 9 points projects to 43. 

Now, let's say the market fades the current rally because it looks overbought in the near-term and because the 34-36 area contain some common resistance pivots. If price holds above 30, we should respect the double bottom and have more confidence of the bullish correction scenario, which has the 43 level in sight. 

If price slides under 28, we should expect the 25 low to be tested again, with high risk of VRX extending lower in line with the previaling trend. 

Monitoring the Restatement:
Valeant Pharmaceuticals has to file its restatement by April 29. We had some relatively "good" news on Monday when a review found no new items to be in the restatement. Meanwhile, VRX says the restatement would essentially vindicate the company from any non-compliant actions.