Tilray Inc. (TLRY) Entering its IPO Price Range: Some Reasons to Anticipate Support?
Tilray $TLRY has gone from its IPO listed price of $17 to flirt with almost $300 a couple months later, only to ride the rollercoaster back down towards its initial price range.
The daily price chart below reflects a classic pump and dump that involved too much hype. In these cases, the founders are handsomely rewarded while average investors jump on the bandwagon too late and get slaughtered.
Back in January this year, we foresaw the potential of TLRY returning to square one.
Tilray Inc. (TLRY) Still Has Downside Back to Square One
TLRY Daily Chart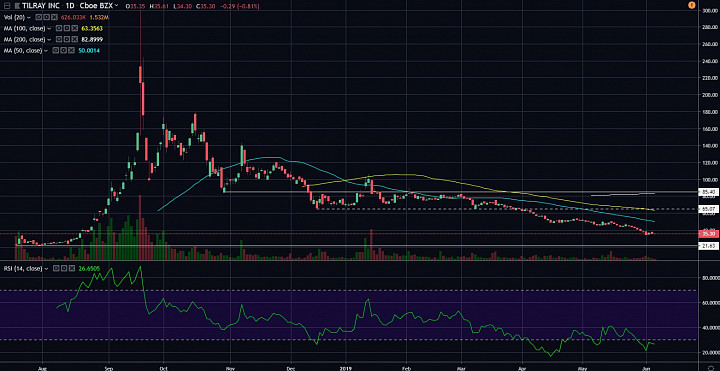 (click to enlarge)
Back to the Beginning:
- As we can see on Tradingview's daily chart of TLRY, the secondary market saw initial price around $21 after which it pumped up to $35 within a couple of days. After ranging between $21 and $35 for about a month, it skyrocketed.
- Now, price is right above this $21-$35 initial range.
- I would not dabble in this name until it falls below $30. Even then, it is highly speculative.
- But we might anticipate some support here firstly because this was the initial price range.
- Furthermore, TLRY might be getting more exposure, which could get some interest from the investment community.
New coverage
Oppenheimer has initiated coverage on Tilray (TLRY) with a "perform" rating. Usually, such a rating is equivalent to a "neutral" or a "hold" rating. Today, Tilray stock has continued to slide, falling almost 2.5%.
What's the consensus?
The 12 analysts covering Tilray stock in June have a consensus "hold" rating on Tilray. Tilray also has a consensus price target of $94 in the month. Based on its current price of ~$35.6, Tilray has a potential upside of ~159%.
The market is mixed
The overall cannabis market has been broadly mixed today, with Canopy Growth (WEED), Aphria (APHA), and Aurora Cannabis (ACB) down ~1%, 1.5%, and 2%, respectively.
On the other hand, Cronos Group (CRON) was up 8.5% after it received an upgrade from Bank of America Merrill Lynch. The weakness in the cannabis sector is enduring despite BAML's optimism. Read BAML Projects CBD Will Become $11.5 Billion Market by 2032 to learn more.
Investors are exercising caution on the cannabis sector as market volatility remains high. Given the choppy markets, holding on to cannabis stocks is challenging, especially as the decline in the sector affects cannabis players' returns. To learn more about our take on the matter, read Should You Hold On to Your Cannabis Stocks?
NANAIMO, British Columbia--(BUSINESS WIRE)--
Tilray, Inc., ("Tilray" or the "Company") (TLRY) a global leader in cannabis research, cultivation, production and distribution, today announced that management will present at the following upcoming investor events:
On Thursday, June 6, 2019, the Company will present at the Piper Jaffray Consumer Marketplace Conference at 4:30 p.m. ET in New York, NY.
On Wednesday, June 12, 2019, the Company will present at the Stifel 2019 Cross Sector Insight Conference at 10:20 a.m. ET in Boston, MA.
On Tuesday, June 18, 2019, the Company will present at the Oppenheimer 19th Annual Consumer Growth and E-Commerce Conference at 2:00 p.m. ET in Boston, MA.
The presentations will be webcast live and will be available on the Investors section of the Company's website at www.tilray.com. The webcasts will be archived for 30 days.