Bitcoin (BTC/USD) Cracks Key Support at $10,400 and Could be Entering a Period of Correction
Bitcoin $BTCUSD is showing some volatility as it pushed to almost $14,000 before crashing back to $10,400 within a 24-hour trading session on July 26-27. I think this was the start of a consolidation period, especially as price is now cracking that $10,400 support.
For me, this is a time to scale out and get ready for lower lows to buy back in.
BTC/USD 1H Chart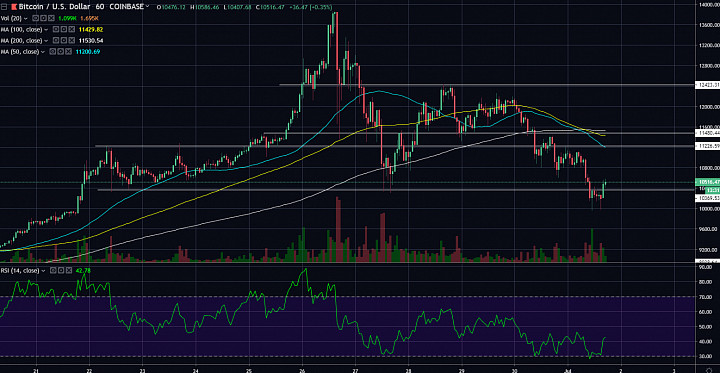 Bears vs. Support Levels:
First of all price has been trading above the 200-hour simple moving average (SMA). But it fell below it clearly after 6/30.
Second of all, the RSI almost tagged 30, and then held under 60. Albeit a weak one, this is still a sign that there is bearish momentum in the short-term.
Also, note that price made the $10,400 level a key support when it bounced off of it again on 7/27 (it first treated it as support on 7/22). Price broke below this level on 7/1.
The thing is, price did find support with relatively good volume at $10,000. I think a break below $10,000 at this point would be an even stronger confirmation of a bearish correction.
Resistance:
Note that when price first bounced off of $10,000, it found resistance around $12,400. This was a key support earlier as well.
I think if price can climb back above $12,400, we might have to shelf this bearish correction scenario and be prepared for another bull swing.
Another key resistance will be around the $11,200-$11.400 area. This area will involve the 200-hour SMA as well as a previous support/resistance pivot area.
If price holds under $11,400, and returns towards $10,000, I would be more confident of a bearish break down of the $10,000 support.
Downside:
Bitcoin could fall in price as fast as it rallied in the past few months.
If price does fall below $10,000, we can see a quick dip to the $8850-$9000 area, which represents the top of a previous consolidation area.
An eventual fall towards $6,000 would NOT surprise me neither if price starts to anchor under $10,000.
But at this point, I am not laying down any dry powder for entry under $6000.
In early 2019, l had a few more bullets for $2000, $1,500. But I have revised strategy since. My lowest entry is now $6000.
BTCUSD Daily Chart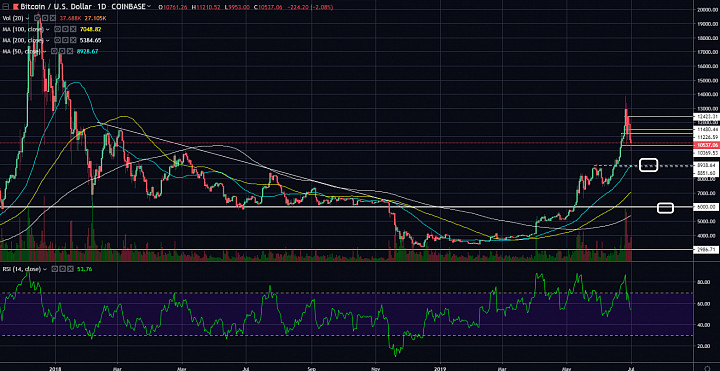 From CoinPowR