Facebook (FB) Recovering From May's Consolidation Price Action
In May, we saw Facebook stop short of $200 and retreat. I noted that $150-$160 was a key support area.
Facebook Inc. (FB) Retreats Sharply; $150-$160 is Key Support
Indeed price stalled just above $160. Now it looks like FB is in a bullish continuation breakout. We can see in the daily chart below that price is crossing north of a falling trendline from May.
FB Daily Chart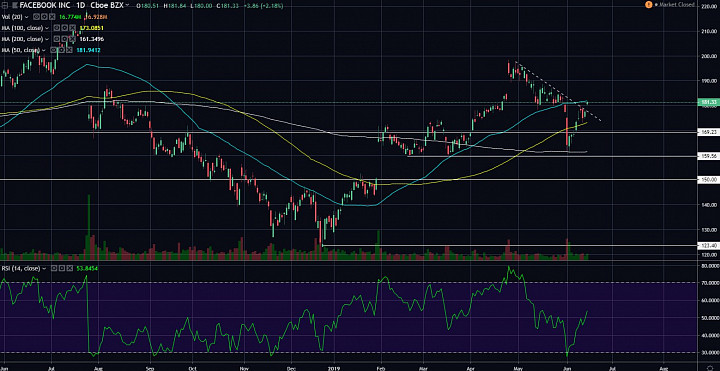 (click to enlarge)
A Bullish Signal:
- The fact that price held above $160 was a bullish sign.
- It meant the recent price low was above the one in February and March.
- The market also showed respect to the 200-day simple moving average (SMA) as support.
- However, price is still within its 2017-present range, so I would say that the overall trend is bullish-neutral.
- The slope of the 200-day SMA also reflects that overall consolidation mode. The RSI being able to fall to 30 in May also reflected a market in consolidation.
- But within this consolidation mode, we are seeing some subtle bullish signs.
- Furthermore, the recent V-shape recovery suggests price will indeed head back to the $200 area before it gets "sticky" again around that psychological level.
- If the RSI also pushes above 60, we can say that May's bearish momentum is over. In this scenario, the 2018-high around $217 could be in sight.
- However, failure to reach $200 with the RSI holding under 60 could signal further bearish correction. In this scenario, we would have to put the bullish scenario on hold and consider potential of further correction towards $150.